My new Pentax DA 50-200WR took a weird route to my home. Here is my part of its story!¹
Shortly before Christmas Amazon showed a great price drop on the 50-200wr: $120 for a brand new copy, a great deal! Just in case of a super deal, I wandered the used section, where prices generally fall proportionally with the new-item price. Sure enough, a $75 copy in Used-Good condition, with caps and hood (which implies a DA and not a hood-less DAL). I cheerfully ordered it and awaited its 12/20 arrival. I had sold off my weather-resistant gear and this deal prompted me to watch the Marketplace for a K200d (now in hand).
Now I'm not a pixel-peeper but I am a devoted shipment-watcher - so I put the tracking data in my 'ship' folder of bookmarks. It sat in Virginia for several days and missed its 12/20 date. After it sat in Virginia a few more days I finally checked in with Amazon.
The response was surprising: it seemed the package was "lost in the mail" and they were refunding my money. Curious. Amazon would also send me a voucher for free fast shipping when I bought the $200 new version - umm no thanks. The next day I received another note - package was Undeliverable and returned to the seller. No surprise there, as Longview WA is NOT IN VIRGINIA! On a hunch I returned to the Amazon site, and there it was, same seller and still $75 even though the new price had gone up $50 or so. I ordered it again, this time with 2-day shipping, hoping that would change its luck.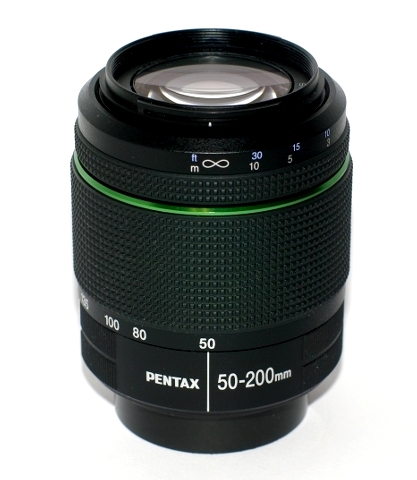 image from pentaxforums.com
Soon I had a new tracking number and found it in Kentucky - with a delivery date well over a week off. Hmm, even the holiday for New Years doesn't make a 2-day shipment take over a week.. so I contacted Amazon again. They apologized and took the $12 surcharge away so I'm back to standard shipping.
Today I checked the UPS site and found it "Out For Delivery" with original arrival of 1/7 revised to 1/2 - again curious, yet in a good way! It's now here, looks nearly new (other than scuff marks to show it's been mounted a few times) and is in fact a DA 50-200 WR with Pentax caps and hood. While I feel bad about the shipping refund, let's recall this should have been in my hands two weeks earlier.
¹This post is snatched from my note in the Pentax forums at pentaxforums.com